Welcome to the Final Exam wiki!
This sister wiki to the Obscure Wiki will cover the spinoff, Final Exam. The official website is also
here
.
---
Final Exam • Cassy • Nathan • Brutal Joe • Sean - Final Exam is a video game created by Mighty Rocket Studios
Final Exam on PC, PSN and Xbox LIVE is a pure 2.5D sidescroller crammed with frenzied action that borrows themes from horror films and teen movies adding a heady dose of caustic humor.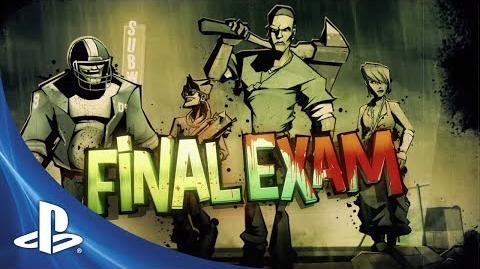 July 26th 2013: The wiki is now launched!
November 5th 2013: Final Exam Launched! Purchase Now!
Who is your favorite Final Exam protagonist?
Click here to visit the Obscure Wiki, the wiki for the main games in the series.
Ad blocker interference detected!
Wikia is a free-to-use site that makes money from advertising. We have a modified experience for viewers using ad blockers

Wikia is not accessible if you've made further modifications. Remove the custom ad blocker rule(s) and the page will load as expected.